Vin Azor
Lives in Ivory Coast, originally from Ghana
Azor is a brilliant, self taught and very prolific artist who expresses himself through many different types of art form. His work is mostly in oil on canvas and at times he adds other materials for texture or special effects. His paintings are usually filled with bright colors which bring the images he creates to life, create depth of movement and sets the tone of the mood for the setting. At other times the subtle colors in his paintings allow one to feel the serenity of the landscapes and the lifeblood of the local people or communities depicted in them. The unique characters that he splashes across the canvas tell a story for and about themselves.
Azor's work has been acquired by private collectors from the US, Europe, the Middle East, and Africa. His work has also been exhibited in a few exhibits in the US, Europe and Africa.
The artist says of himself:
"My creativity is truly a gift from God. My surroundings and my inner feelings of movement and space influence me. I am intrigued by the relationships between people and their relationships with their surroundings. I just attempt to capture all of this through the strokes of my brush. I want to share what I perceive in the most meaningful and lasting way with others. My paintings are the best way of achieving this.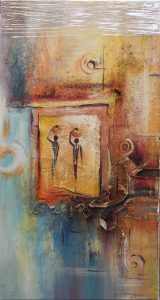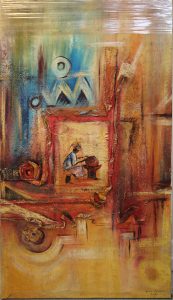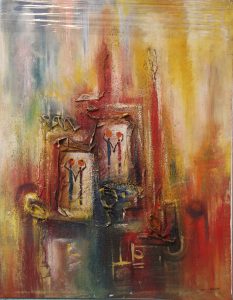 I also have a great imagination and this aspect of my personality comes through in those of my paintings where I really enjoy creating my own fictional characters and showing them engaged in real life activities. I do not restrict or limit myself to one particular way of painting. I just let my imagination go in whichever direction that it wants to go – my hand and brush simply follow."